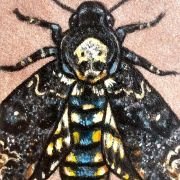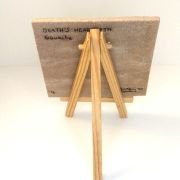 Death's-Head Moth on Sandstone
Enjoy this spooky death's-head moth art on your desk or shelf! Death's-head hawkmoths are famous for the eerie human-skull-shaped pattern found on their backs. They're found throughout Europe, Africa, and Asia.
#4 in the Bugs on Rocks Series
Painted with acrylic gouache directly on a rosey-tan mini sandstone canvas
Sandstone canvas split and cut in northern Arizona
Dimensions: ~ 4″x 4″ and ~ 5cm thick.
Mini wooden easel included for easy display (art displayed on easel sits at about 5.5″ tall)
*CARE INSTUCTIONS*— This art piece is fragile– similar in fragility to ceramic. Please handle and display with care. Do not spray with water or soak. Not intended for use as a coaster.
1 in stock