Sorry, this product cannot be purchased.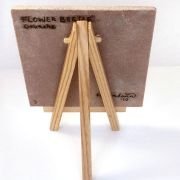 Flower Beetle on Sandstone
Enjoy this vibrant flower beetle art on your desk or shelf! Flower beetles are in the scarab family and include thousands of species that vary widely in coloring and shape. Many species may be found collecting pollen and nectar from flowers.
#5 in the Bugs on Rocks Series
Painted with acrylic gouache directly on a rosey-tan mini sandstone canvas
Sandstone canvas split and cut in northern Arizona
Dimensions: ~ 4″x 4″ and ~ 5cm thick.
Mini wooden easel included for easy display (art displayed on easel sits at about 5.5″ tall)
*CARE INSTUCTIONS*— This art piece is fragile– similar in fragility to ceramic. Please handle and display with care. Do not spray with water or soak. Not intended for use as a coaster.
1 in stock