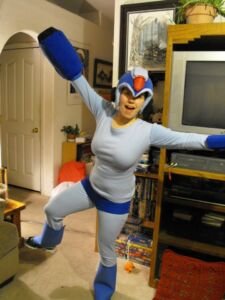 I always look forward to Halloween. I don't generally care too much about the horror stuff but like the fun of carving pumpkins and dressing up. I really enjoyed making my own Mega Man costume (a video game character) from scratch my last year of college and then my fiance and I dressed up in drag as my parents the next year.   I haven't been great about finding time to make a costume the last couple of years or even do much of anything besides play scary video games and eat candy, but I still love when the holiday comes around. 
One thing I really love is seeing the fun and scary costumes people come up with. I find that a lot of people are hesitant to get creative or do artwork during the rest of the year, but they seem more open to sharing their imaginations and having fun with making Halloween costumes. Some people come up with the coolest things!
As a kid, I remember a lot of my Halloween costumes (and my siblings' costumes) being built from a bunch of random stuff. We have a picture in our family photo album of my older brother when he was a little boy completely wrapped in toilet paper. He was of course a super rad toilet paper mummy.
My first Halloween memory was when I was about 4 or 5. My parents dressed me up like Frodo Baggins from The Lord of the Rings and my brother (7 years older and much taller than me) was Gandolf the Grey. My dad had found my brother a huge gnarled up root shaped like a wizard staff.  It was awesome. The nice old lady down the street with the giant weeping willow tree even knew exactly who were when we knocked on her door (my 4 year old self had no idea who Frodo was but was thrilled someone else did *laughs*).
Lots of fun Halloween memories. I hope to make some new fun memories this upcoming Halloween!
---
Update 10/12/15- 
And the randomly selected winners of the glowy skulls are… Super Cool Hulie and Lisa Severian! Winners will be contacted privately for more info. Thanks for everyone who participated. I look forward to doing more giveaways in the future. Stay tuned!
 The mini 8″x10″ glow-in-the-dark skull art giveaway entry questions!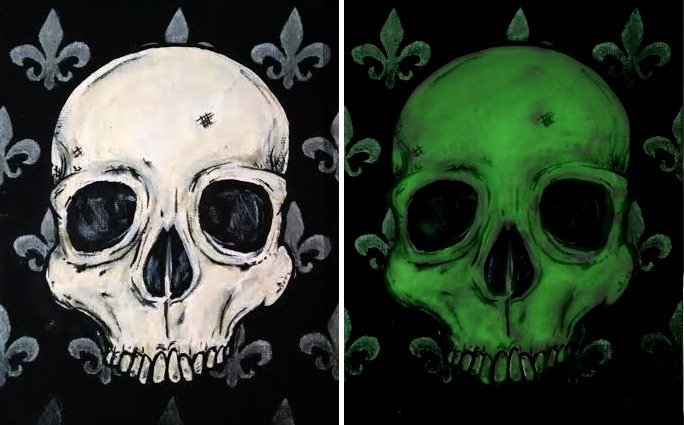 Leave a comment answering any (or all) of the questions below and make sure you've signed up to my free email newsletter to qualify.  
I'm giving away 2 paintings to 2 random commenters. I'll be choosing and announcing the winners on my Facebook Business Page on October 12th, 2015 around 6pm (PST) and contacting winners via email. *update 10/12/15- the contest has finished and winners have been notified*
Q1) What fun/cool/silly/awesome costume have you made for a Halloween outing or have you known someone else who made a neat costume? Tell me about it.
Q2) What is your favorite Halloween memory?
Q3) What do you like doing the most on Halloween?